History
The history of Lucky Charms
See how one of America's favorite cereals has evolved over the years.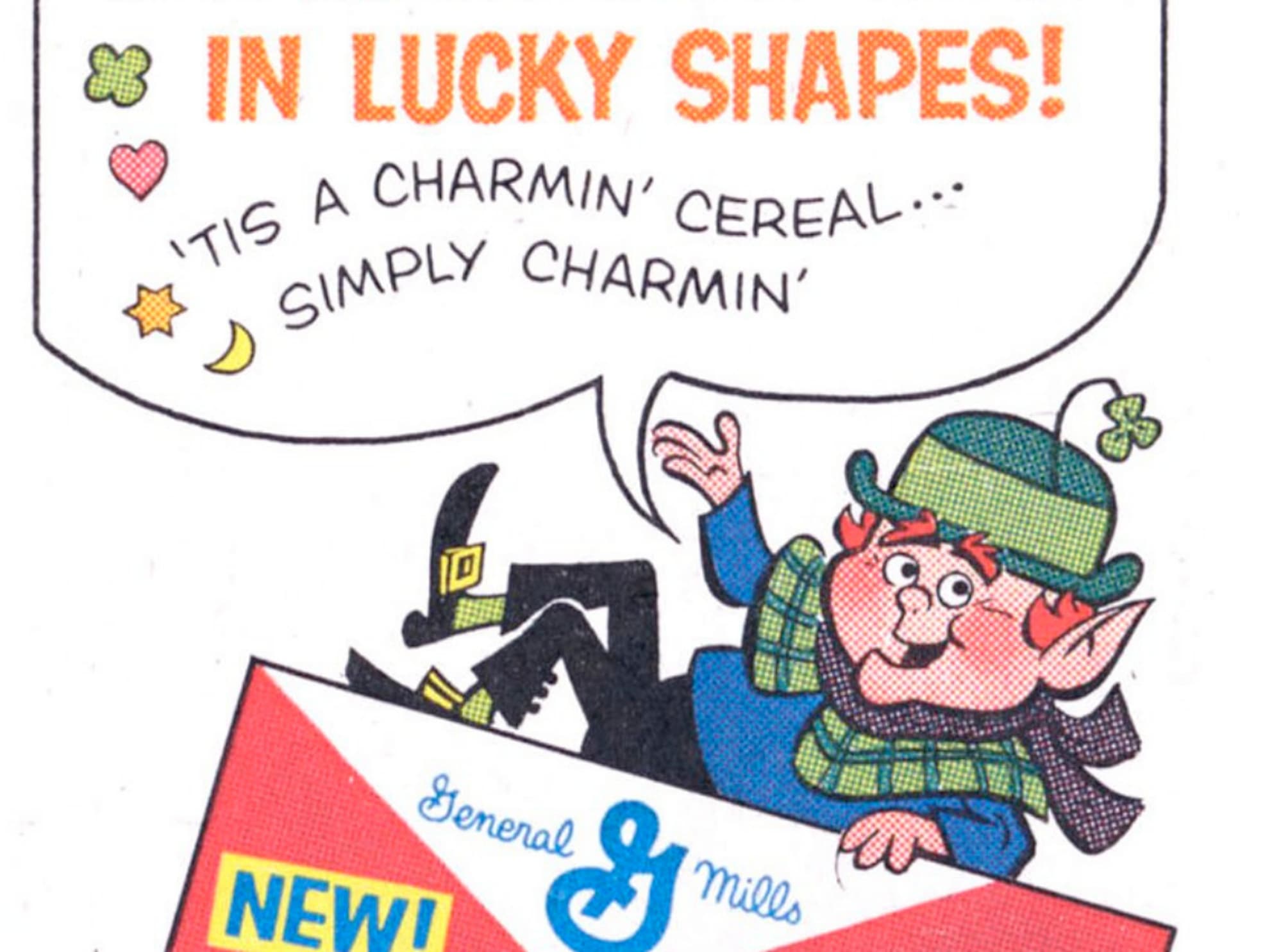 Inspired by circus peanuts
Whether you love the crunchy oat pieces or the ever-changing colorful marshmallows, we've got the ultimate guide to one of America's favorite cereals.
Lucky Charms cereal debuted in 1964 with oat pieces in shapes of bells, fish, arrowheads, clovers and X's and green clovers, pink hearts, orange stars and yellow moons marshmallows.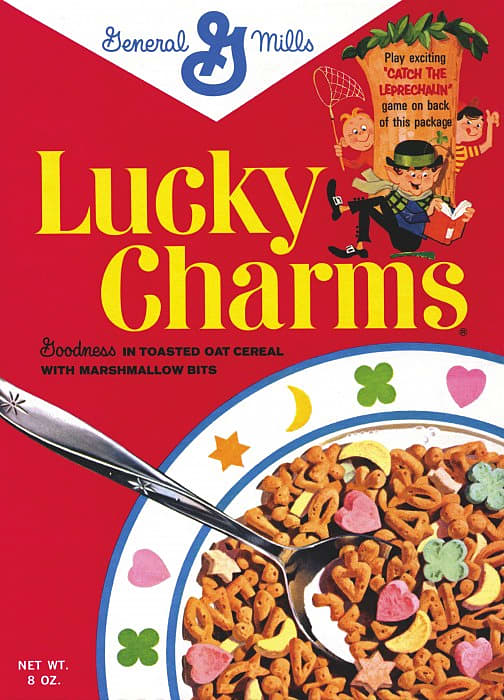 The cereal was created by product developer John Holahan. He developed the original prototype based on Cheerios cereal pieces and chopped up pieces of his favorite candy – Circus Peanuts.
Lucky the Leprechaun debuted in 1964 with one of the most expensive advertising roll-outs to that date featuring full color ads in Sunday comics and comic books plus animated ads featuring the charmin' leprechaun.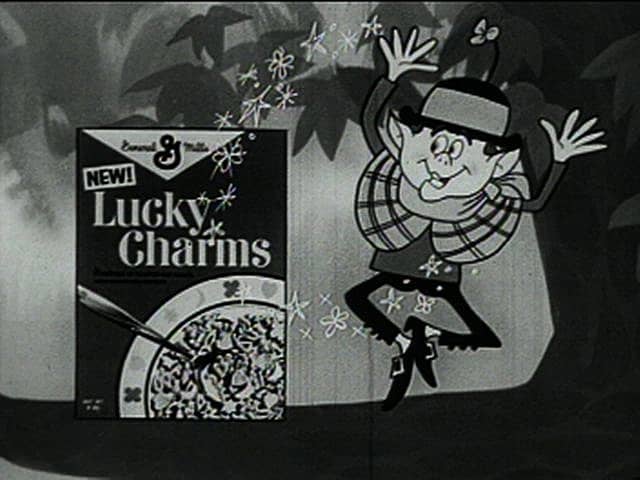 In 1967, a kiss of sugar frosting was added to the oat pieces.
In 1983, purple horseshoes were added.
Lucky Charms facts
* The marshmallow pieces in Lucky Charms are called "marbits."
* Of the original marbits, only the pink heart remains.
* In addition to original Lucky Charms, both Chocolate Lucky Charms and Berry Lucky Charms have been offered.
* In 1975, Lucky almost lost his job as cereal mascot and was briefly replaced by Waldo the wizard.
Famous Lucky Charms promotions
* In 1998, Lucky traveled around the world and offered coins featuring world landmarks as well as a passport and travel kit.
* In 1964, kids could order Lucky's 25-piece coffee set featuring everything from cups to silverware.
* In 1983, Lucky encouraged kids to grow real crops with his mini farm with seeds, tools and even animals.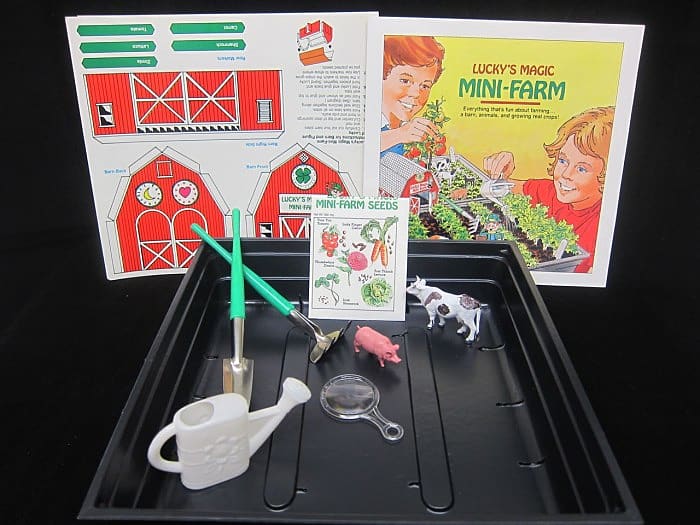 * Lucky went 3-D and huggable in 1987 with the offer of a plush, stuffed leprechaun.
* In 1991, Lucky Charms featured a mail-in offer for a real free tree.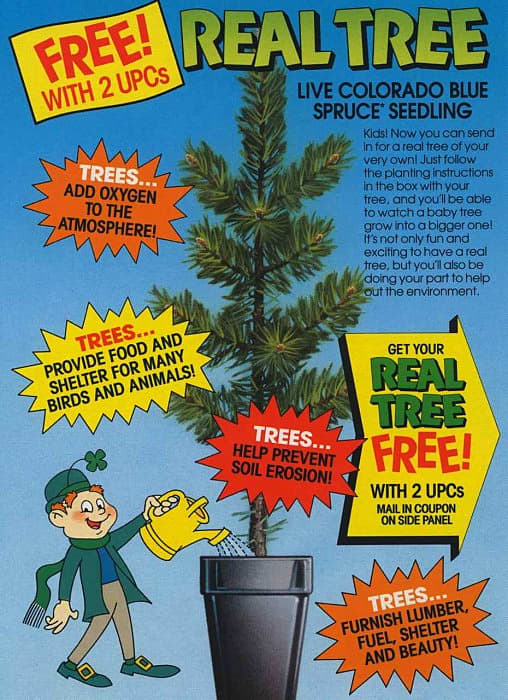 * In 1996, Lucky featured special edition coins to commemorate the Atlanta Olympic games.
* In 2014, Pentatonix recorded a birthday song for Lucky.
Susan Wakefield, the corporate archivist for General Mills, talks about some of the promotional history of Lucky Charms in this video.
Happy Birthday Lucky! Here's to 50 more magically delicious years!